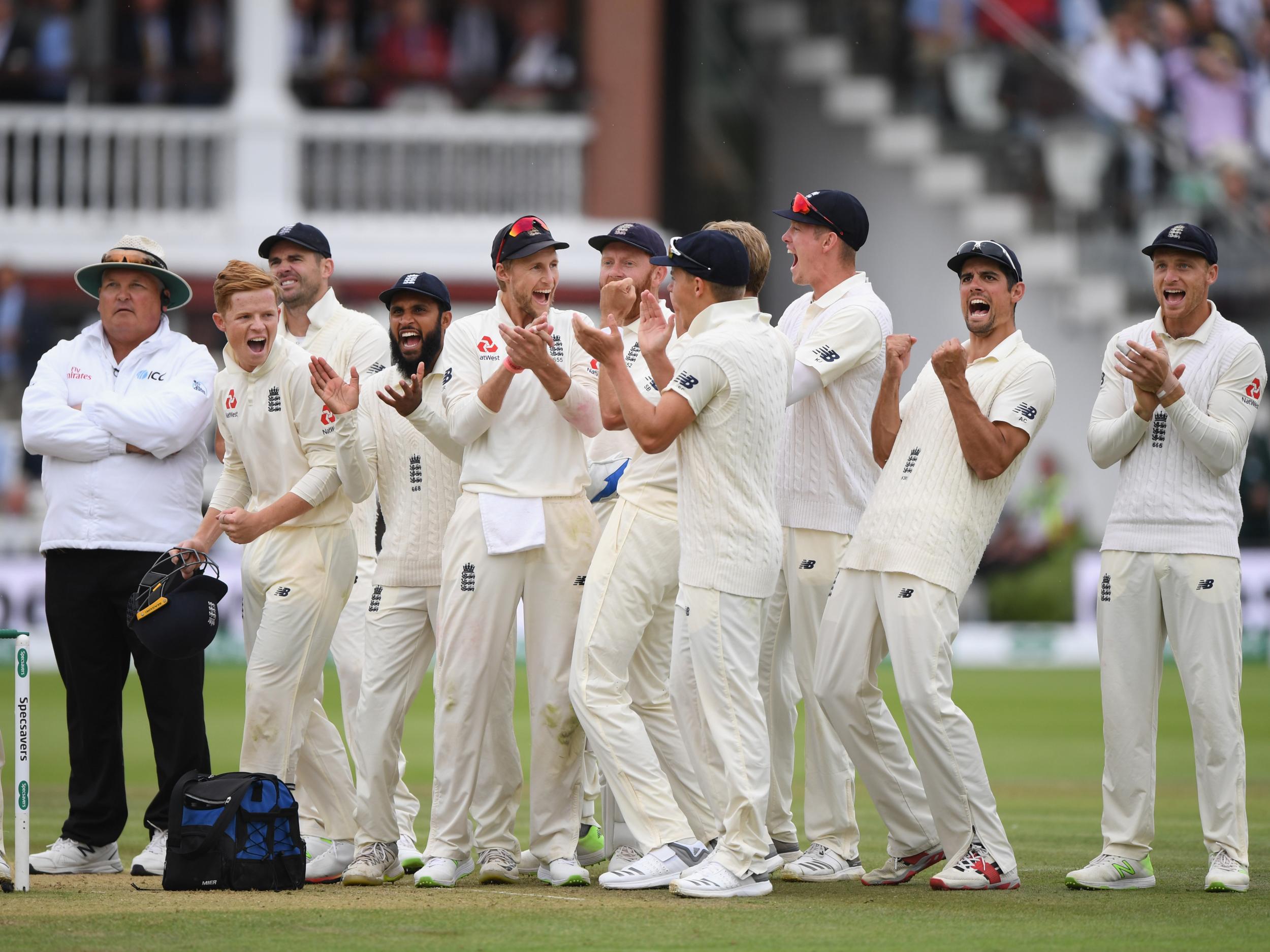 Nine days is all it has taken for India's tour to fall to pieces. From almost guaranteed victory at Edgbaston, to the chagrin of Lord's, which they leave 2-0 down, their captain injured, and their famous batting line-up in shreds. The bounce may have been variable, the lateral movement unpredictable, but India's fate seemed predetermined from the moment they stepped out of the pavilion under battleship-grey skies to face the strains of England's familiar swing music.
Bowled out twice in 82 overs; defeated in less than two days' worth of cricket; techniques unpicked; careers under threat. Truly, it has been a miserable weekend in the capital for the world's No1 side, and with no warm-up game between now and the end of the series, it is hard to see where they go from here. A miracle is required now, and they may have to do it without their chief miracle-worker.
Virat Kohli's back injury, forcing him to play out his brief innings in visible pain, leaves him a doubt for the third Test at Trent Bridge next Saturday. Perhaps the absence of their leader will induce some of their underperforming stars to raise their game. That, however, is a wildly optimistic view, and from a neutral standpoint there is a certain regret in how quickly the tourists seem to have disintegrated, a jubilee series threatening to turn into a procession.
On the other hand: Trent Bridge, the Rose Bowl and The Oval should suit India far better, and they can scarcely enjoy worse luck than they did here. England were fortunate with the weather when they bowled, fortunate when they batted, and fortunate again here, as India subsided for 130 in perfect seam-bowling conditions. James Anderson's nine wickets in the match were a testament to his craft, but all of England's bowlers enjoyed themselves, with the notable exception of Adil Rashid, who ended the game without a run, an over or a catch to his name.
Certainly this game will have done wonders for England's confidence, even if their deepest underlying flaws – a lack of top-order batting grit, a lack of proven spin pedigree, an unsettled selection policy – remain in place. But even with atmospheric help, they stuck faithfully to their plans and caught well. There is a case for giving the new ball to Chris Woakes or Sam Curran, allowing Stuart Broad to let rip at the middle order, as he did so successfully here. But whatever the configuration – and there is a faint possibility that Ben Stokes may return at Nottingham – their attack will now feel they have the measure of India's batsmen.
Where can India turn? Karun Nair and the exciting young left-hander Rishabh Pant could well come in next weekend, and with Jasprit Bumrah poised to return, it could be a new-look India who emerge at Trent Bridge. But the feeling remains that too many of their players have shrunk rather than thrived, which suggests a deeper issue with a side that has become so temperamentally reliant on Kohli that it has lost the ability to think as a collective.
For England, the reverse phenomenon is in effect. Never has this felt more like Joe Root's side than in these last two Test matches: a varied bowling attack, controlled aggression with the bat, imaginative field placings and bold captaincy. Even the decision to declare after barely half an hour's play in the morning had a certain idiosyncrasy to it: just before a landmark, with Chris Woakes in fine form and a good session, you feel, before Alastair Cook would have done it.
Woakes ended unbeaten on a magnificent 137, which with his four wickets was enough to earn him the man-of-the-match award. England scored their runs at a spectacular 4.5 per over, and yet when India stepped out for their second dig batting seemed harder than ever. Rain hovered in the air like a bad word, so too Kohli's back injury, and yet in the short stint before the weather brought an early lunch, there was still time for Anderson to snaffle Murali Vijay for the first pair of his first-class career – his 100th Test wicket at Lord's – and KL Rahul, LBW stepping across his stumps.
Ajinkya Rahane seems to have regressed in Test cricket, and after he perished chasing a wide one to third slip, his average over the last year is just 11. Che Pujara resisted for almost two hours before Broad, returning for his second spell, bent a vicious in-swinger from way outside off-stump, through a hoop of fire, under a cargo net, around the tyre wall, past a startled Pujara and into the stumps.
And so entered Kohli, limping to the wicket, gingerly jogging singles, looking for all the world like a man twice his age. At one point he slumped to the turf to get treatment from the physio, flat on his front, pounding the ground with his fist, the giant felled. In the very next over, he survived a big appeal for caught behind before turning the next ball to Ollie Pope at short leg off a thin inside edge. Broad was finding extravagant in-swing now, and when Dinesh Karthik was LBW first ball, Lord's was about as raucously lively as it has been all week.
Hardik Pandya and Ravi Ashwin finally managed to assemble a stand, putting on 55 before Woakes trapped Pandya with his first ball back – the first successful review of the Test, after nine failed attempts. Anderson mopped up the tail, and there was something fitting about the fact that it was Woakes who produced the final wicket, Ishant Sharma glancing straight to a leg slip who you strongly suspect had been installed there just for the hell of it.
It has been that sort of Test for England, one where all the cards have fallen their way, and as long as they can keep their heads a series victory is surely theirs. Whether it represents a genuine step change for this young side or merely a demoralised opponent struggling in unfamiliar conditions, it's hard to say. There's clearly a conversation to be had about how even the best teams find it impossible to win away from home these days. But for Root's team, all that can wait for now. England are well on top, and for a side that has lost more than it has won in recent years, it will take a while for that particular novelty to wear off.
Follow the Independent Sport on Instagram here, for all of the best images, videos and stories from around the sporting world.