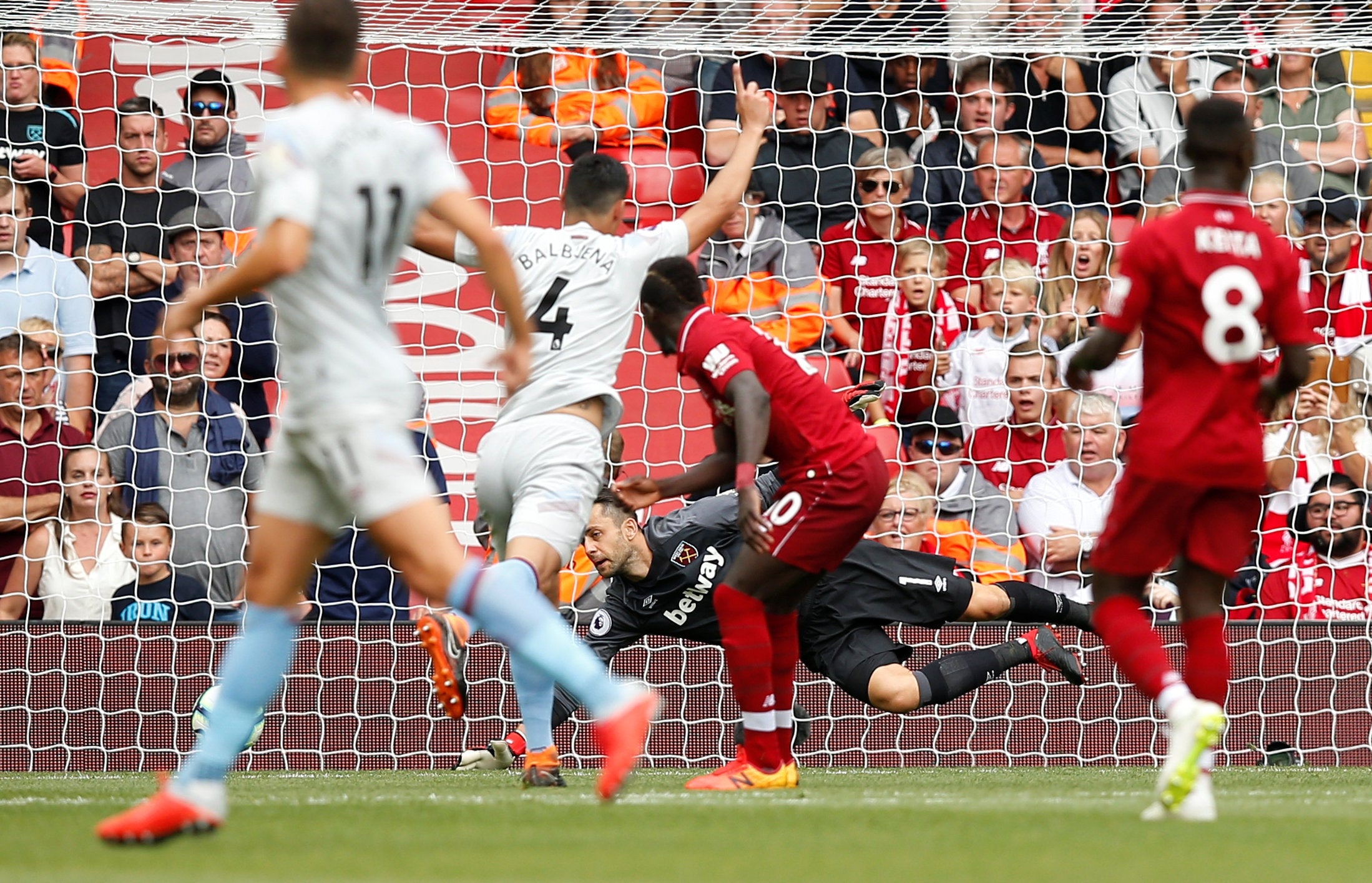 Liverpool's deadly front three picked up where they left off last season to comfortably beat Manuel Pellegrini's poor West Ham.
Mohamed Salah opened his goal scoring account for the season by rounding off a nice move by Liverpool which was made possible by the Hammers' pedestrian defending.
Sadio Mane struck twice, the latter after half time and from an offside position, not that it would have changed the match. Daniel Strurridge joined the party and scored with his first touch after coming off the bench to make it four.
It was an impressive performance from debutant Naby Keita who ran the midfield and looked very assertive as Liverpool swept forward. By contrast, it was a very quiet game for Liverpool's £67m goalkeeper, who was given very little to do by West Ham.
Jack Wilshere struggled to get involved in the game as he made his Hammers debut along with fellow summer signing Felipe Anderson.
Here are five things we learned from Anfield:
Naby Keita could be the signing of the season
He was a player who Jurgen Klopp was determined to bring to Anfield, and against West Ham the reason why was clear to see.
Every pass, tackle, and attacking run was completed with the highest degree of accuracy, dynamism and, much more importantly, purpose. Often players can be accused of doing the simple things to get by in games, and perhaps on his debut he would be forgiven for doing this, but Keita was putting the maximum amount of effort and drive into everything he did.
His tireless desire and unquestionable technical ability already makes him a standout candidate to be the best signing this season.
Jamie Redknapp summed it up rather nicely on Sky Sports. "It's been eight minutes, it looks like he's been there eight years," said the former Liverpool player. Keita enjoyed a full pre-season with his new teammates after making the move from RB Leipzig, and he already appears to not just be on the same wavelength as the squad, but setting it.
West Ham still working out how to get the best out of Jack Wlishere
Where do you play him? Number ten, central midfield, or even a little deeper? Manuel Pellegrini chose to start him at the tip of a midfield three, just ahead of Declan Rice and Mark Noble. It made sense, in theory, because he could get involved in attacking moves by providing Marko Arnautovic with support and he could also tuck back into midfield to keep things tight when Liverpool were in possession.
In reality, Wilshere had the best view of the game but as another spectator. The entire first half completely passed him by without a trace.
Part of the problem was that when West Ham were out of possession Liverpool circumvented them before the trio in the middle could even think about where to position themselves. That's a normal thing for Liverpool to do. But where Wilshere was most ineffective was when West Ham tried to play their way up the pitch.
Liverpool's pressing was so intense that Rice and Nobel struggled to get a decent foot on the ball and work it to influential attacking players like Felipe Anderson or Michail Antonio. Wilshere, you feel, has a better ability to slow the game down and show the composure that West Ham desperately needed to get them further up the pitch.
Robert Snodgrass came on and as the game wore on, Wilshere dropped a little deeper. But by then it was too late. Perhaps his true potential at West Ham will be on display when the Hammers are against slightly easier opponents where he can stamp a larger authority on the match.
Manuel Pellegrini has a far tougher job on his hands than he may have thought
West Ham, so it seems to those who associate with the club, are the Premier League's sleeping giants. So for Manuel Pellegrini coming in to a side with some promising young players and a hefty transfer budget behind him may not been a particularly daunting task.
However, on this evidence at least, Pellegrini will have his managerial ability thoroughly tested during his time with the East London club. Before the game he gave a simple "no" when asked if he had been set a specific goal, with the Europa League suggested by one reporter.
But before anything like that can be considered, the former Manchester City manager must address the Hammers' dreadful defence. Over £100m was spent on players in the summer, the best of them attack-minded, and it is a side in need of a little cohesion before anything ambitious can be achieved.
Liverpool individuals pick up where they left off
Liverpool's front three of Firmino, Mane and Salah changed the game last season. Their play was as mesmerising as it was deadly, and against West Ham they proved it was not a fluke.
Roberto Fimino joined pre-season training late and was struggling for fitness and Salah looked a shadow of himself during the World Cup, so there was a danger that the three attackers would not be at their best straight away.
That, however, was far from true. Their movement and pace was as quick as it has ever been, and the results were telling.
Mane was deadly around the box, Salah's speed and close control was sensational, and Firmino, who only managed 68 minutes, was creative when dropping deep. This is an attack to be feared.
It is time for VAR in the Premier League
Like it or loath it, Video Assistant Referee decisions are the future. Their use in the World Cup can be largely deemed as a success and the Premier League is trialling the system at matches behind the scenes but will not use it to influence decisions.
It is only a matter of time before it becomes a regular part of football in England after a successful World Cup. Decisions made by referees at the World Cup were 95 percent correct, this was raised to 99.3 percent by VAR, and the technology was needed at Anfield.
Shortly after halftime, Firmino poked the ball beyond the West Ham defence towards Mane who swivelled on the spot and fired the ball into the bottom corner. Before wheeling away he looked at the assistant referee, as did the crowd, as did the referee, Anthony Taylor, but there was no flag.
Replays show that Mane was standing around two yards offside. The linesman's view wasn't obscured and West Ham's back line was fairly straight. There was no reason for the official to miss it, but he did. Would VAR check have missed it? No.
Follow the Independent Sport on Instagram here, for all of the best images, videos and stories from around the sporting world.