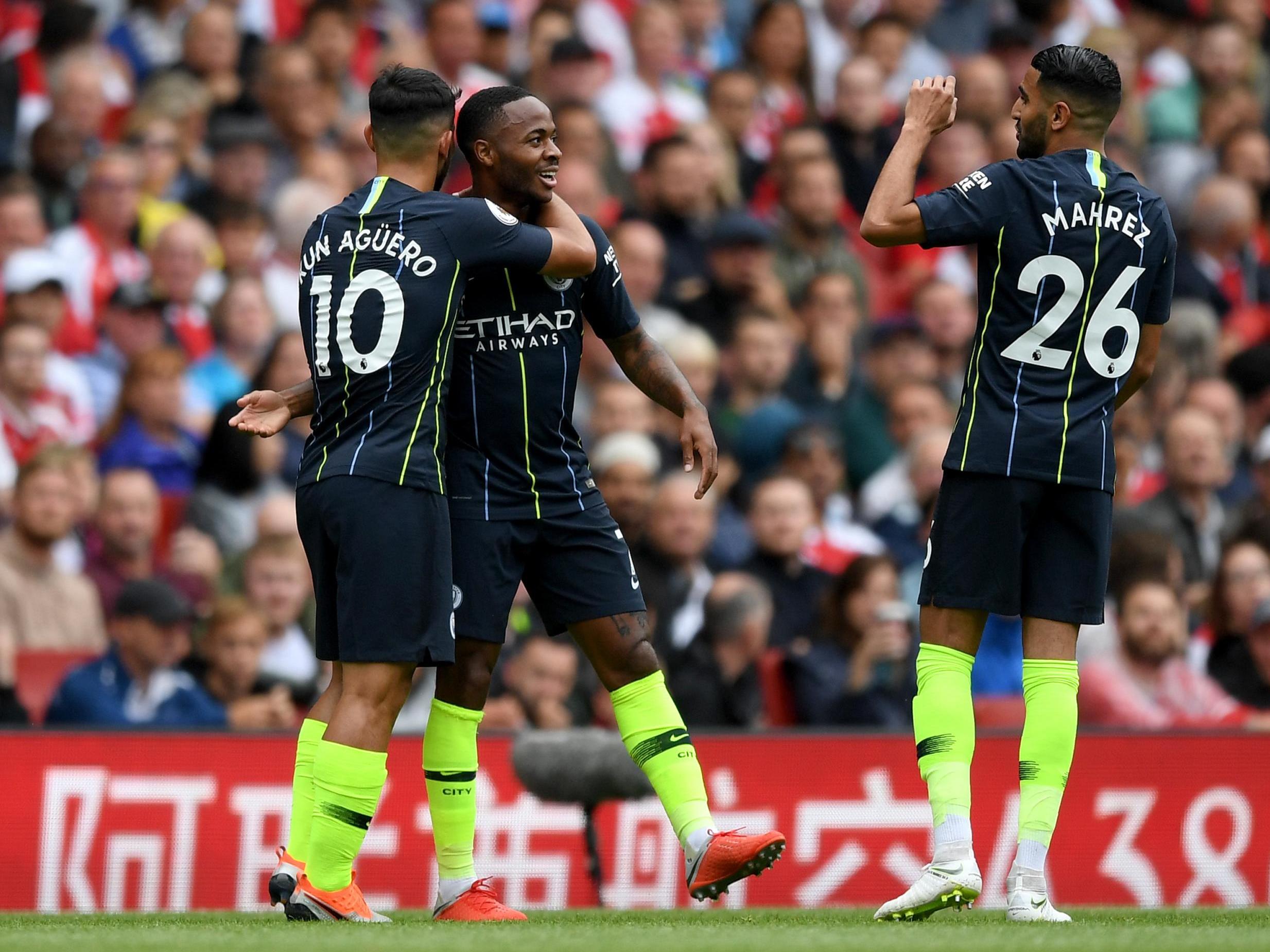 Arsenal started life under Unai Emery more or less where they finished with Arsene Wenger as Manchester City secured a convincing 2-0 win at the Emirates.
Raheem Sterling scored early in the first half with a powerful low finish, and City's lead was eventually doubled when Bernardo Silva scored from a similar position with a well-hit curling effort.
An Arsenal side with a supposed new lease of life failed to get going and rarely worked Ederson in the City goal.
Here are five things we learned from the Emirates:
Guendouzi showed glimpses of potential but, like Arsenal, falls short when it comes to top quality
'So who's that new David Luiz looking lad then?' asked those who may not have been following Arsenal's pre-season with a huge amount of detail. The 19-year-old midfielder showed flashes of talent on his surprise debut after joining from French second tier side FC Lorient.
His one-on-one defending was very tidy, there's no doubt about that. He showed against Sergio Aguero and Sterling that he is no pushover as he shepherded them away from goal, and made some important blocks and interceptions.
What was less impressive, however, was what he could do in possession. While Mattoe Guendouzi was comfortable in making himself available to receive the ball, once he got it the poise and confidence he showed when defending was absent. Passes in the final third were poorly weighted and too often panic set in as the ball was aimlessly fired forward, which allowed City to quickly get back on the front foot.
It was his debut, and he is 19, and it's perhaps a sign of the hand that Arsenal are playing with. 
City will once again make light work of the title
Surely there's no other outcome? Against Chelsea in the Community Shield Manchester City were frighteningly good, and that form has continued into the Premier League.
Liverpool are City's most likely challengers this season, but Guardiola's side look so complete and in tune with each other. The addition of Riyad Mahrez was a real statement of intent. On his debut he showed some promising moments, but there is definitely more to come.
Raheem Sterling looks like he is going to have an even better season than his electric campaign last year. Silva, who showed glimpses of promise last season, had an excellent game and doubled City's lead with an emphatic curling finish to turn in Benjamin Mendy's cross.
Leno must become Arsenal's number one
To spend £20m on a new goalkeeper and then play someone who appeared to be out of his depth over the last couple of seasons was an interesting decision by Emery. Petr Cech's name on the teammsheet was an unexpected one, but Bernd Leno, who was named as a substitute for only the third time in his club career, may not have to wait too long to get his turn in the first team.
To say Cech could have done more to prevent Sterling's opening goal may be a little harsh. Even though the ball was not hit into the corner of the goal, the goalkeeper had several players in front of him and the effort was very well struck. What is fair to say is that Cech very much represents the old guard at Arsenal, the kind ofplayer which the club need to begin moving away from.
Cech's distribution often put players in difficult situations, and he almost scored a calamitous own goal with a backwards pass. Leno must become Arsenal's new number one as a sign of the new era at the club – that, and he's probably a better keeper.
City's wing-backs take centre stage
Not many sides will have a greater appreciation for their full-backs than Manchester City. Both Mendy and Kyle Walker had superb games down their respective flanks. Walker's pace was hugely beneficial when City stretched Arsenal, and was called on when the home side attempted to break forward.
Walker's defending is often leaves room for improvement given his attacking nature, however, his recovery tackles were very sharp and his one-on-one defending much better than it has previously been.
How many more points would Manchester City have won last season if Mendy played over 30 league games instead of Fabian Delph? While you suspect there is still a bit more to come from the French defender, he was certainly lively against Arsenal. His assist for Silva's goal was particularly impressive. Mendy showed real desire to make an overlapping run and then displayed real composure to pick out the Portuguese midfielder with a well weighted pass to the edge of the box.
Lack of chances will worry Emery
With Arsene Wenger at the helm the defending towards the end got progressively worse each season. What remained constant was the wonderful attacking play that his sides produced, no matter how calamitous the back four or five became.
Against City, Arsenal really struggled to work Ederson. There were very few times where you really felt that the Gunners were going to create a chance to score, which will be a huge concern for the new manager. Mesut Ozil and Henrikh Mkhitaryan were largely ineffective, which meant that Pierre-Emerick Aubameyang was receiving very little service and even less support once he eventually got the ball.
Alexandre Lacazette came on and flashed a half-volley wide from the edge of the area, but that's about as good as it got for the Arsenal fans who are so used to being treated to attacking play.
Follow the Independent Sport on Instagram here, for all of the best images, videos and stories from around the sporting world.