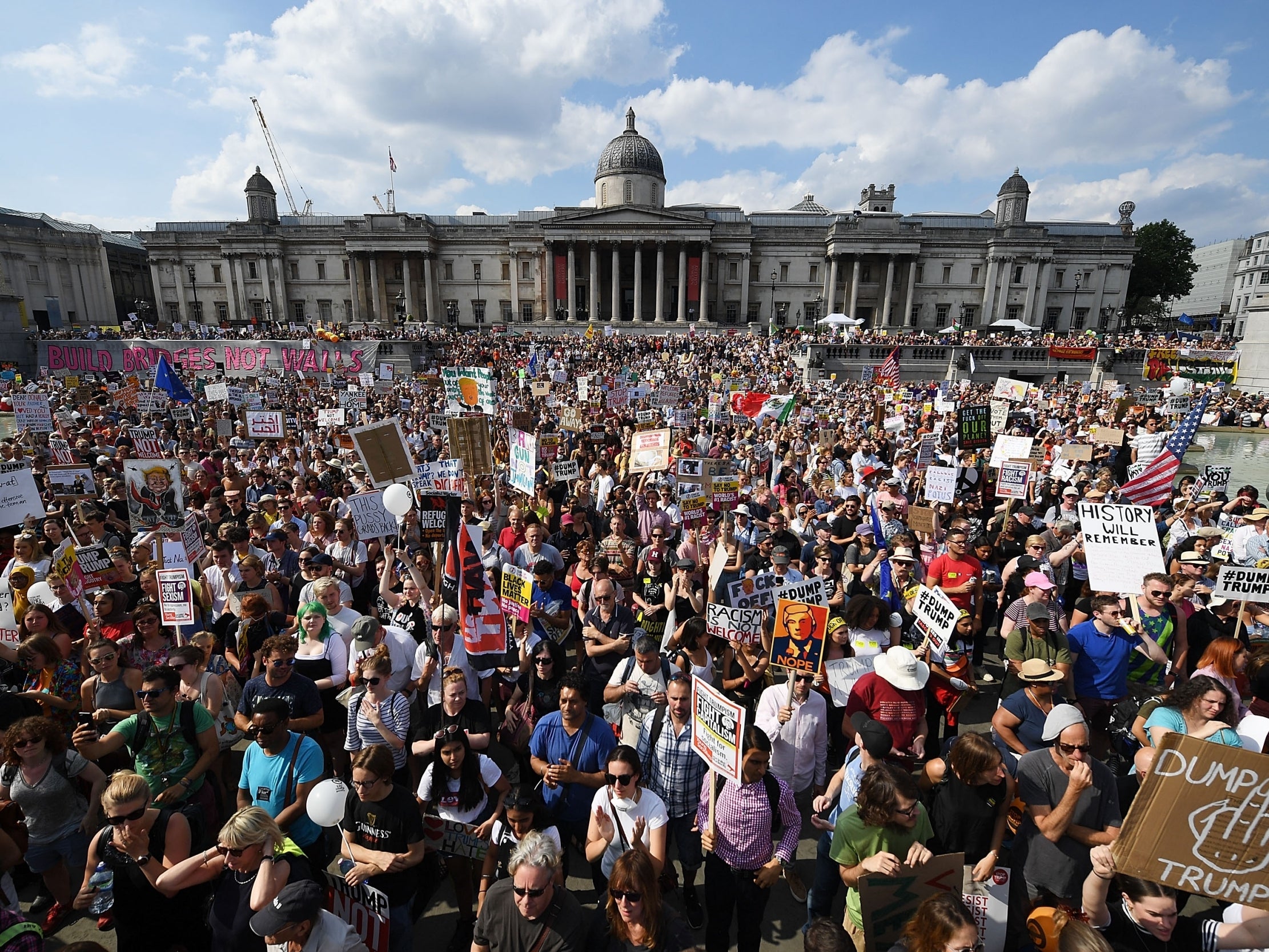 As Donald Trump attempted to salvage his relationship with Theresa May a few dozen miles away at Chequers, protesters, pet dogs and babies in arms descended on London's streets to show their opposition to the president. 
From elegantly designed, pithily worded placards, to pieces of paper with hurriedly scrawled and barely legible handwriting begging for "literally any functioning adult for 2020", the collective antagonism for the billionaire was everywhere you looked.
Tens of thousands of marchers swarmed into central London on Friday, in a show of collective anger at a US president more divisive than any in living memory. 
"I am struggling to use words you can print," Paul Robert, 45, told The Independent when asked why he had decided to come down to the protest on Friday.
"I just think he is a complete idiot," Mr Roberts, who works in customer services, said of Donald Trump. "He does not understand how the world works. He does not understand what people think.
"He is aggressive. He is a narcissist. He is a misogynist. I think the world would be better off if he stuck to business, not politics. He likes to get angry and get people that are already angry angrier. He is a spark to kindling and wants anything that gets him attention".
And attention Mr Trump certainly had on the capital's streets – according to organisers of the Together Against Trump demonstration, police told them that more than 100,000 protesters had joined the march by mid-afternoon.
While the president described the relationship between the US and the UK as being at "the highest level of special", protesters in the capital chanted: "Donald Trump's not welcome here."
Louise Wilkstrom, one those protesting, said: "I think it's just really important to show the UK, the US and the rest of the world we are against Trump's racism, misogyny and homophobia."
"I was pregnant during the Brexit referendum and I'm from Sweden, so that was a blow," the 33-year-old, who had her 20-month child with her, added. "A month after he was born Donald Trump was elected and I thought, what is the world coming to? What world is he growing up in? But you have to have some faith in the future and think people can change the future together."
As her son gently threw an orange balloon bearing Mr Trump's face with a line across it, she laughed, and said: "In the meantime there are balloons."
Despite temperatures up to 29C, row upon row of protesters with the energy of Duracell bunnies marched along chanting: "Say it loud, say it clear, Donald Trump's not welcome here."
From Oompa Loompa-coloured rubber figurines of the president, to placards comparing Mr Trump's hair to that of a troll or an ear or corn, the former property developer's face snarled back at you everywhere you look. 
"Sleep in a democracy, wake up in a dictatorship," read one ominous sign.
But Britons did not just descend on the capital. Tens of thousands took to the streets in cities across England, Scotland and Northern Ireland. 
Hundreds of people gathered at Belfast City Hall to protest Mr Trump. Many waved banners featuring anti-Trump messages, including "Belfast says no to Trump".
One Trump supporter, who briefly heckled the start of the event, was drowned out by the crowd chanting: "Hey ho, what's the crack, Donald Trump don't come back".
In Glasgow's George Square, thousands gathered ahead of the president's arrival just outside the city on Air Force One.
Among the placards carried by campaigners were messages against his administration's policies, including "Give the weans Irn Bru not iron cages" while others urged him to go home, with signs saying "Bolt ya rocket and make Scotland great again".
Birmingham saw around 600 marchers flock to the city centre, while a similar number attended a rally at Albert Square in Manchester late on Friday afternoon.
Back in London, confused but curious tourists snapped photos of chanting protesters, and sweaty police officers looked bored.
"God it sounds like a carnival. What is going on?" demanded one dumbfounded random passerby who could hear but not see the crowds.
A pair of dumped heels – either ditched due to their impractical wedge or simply forgotten – could be seen in the gutter after protesters departed Portland Place.
A woman, 29, who said she could not say where she worked because she was not supposed to be there, said: "I want to let Trump know he is not popular in Britain. The massive protests today are undeniable. He can't dismiss them as fake news.
"I decided to go to the women's march because Trump is anti-choice in terms of abortion. He is anti-LGBT. There need to be more women in government, there need to be more women everywhere, and he is anti that. I'm a feminist and that is not going to fly with me." 
"I am also here because I have four sisters and four nieces. I want to let my little nieces know they can be anything they want."
Her colleague, 22, chipped in: "I'm here because Trump is a horrible human being and I don't like the way things are going under him."
Elsewhere, Sargi Patel, 47, from California, said she had been happy to stumble across the protest while her friend was showing her around London.
"I went to the women's march in Los Angeles and it was amazing. There were so many people there. It was overwhelming."
Ms Patel, who was born in India but grew up in California, added: "The Trump administration is a hot mess. I feel that he is burning America to the ground. He makes outrageous statements and is trying to create division in the US and the whole world, and it's working.
"I don't think he likes women at all. Look at that video of him talking about grabbing them by the pussy. It also seems like he goes more after minorities – which not only includes women but also includes blacks and Hispanics." 
Diana James, 71, said it was the first protest she had ever been to in her life.
"I really regretted not going to the anti-Iraq war demo, so I thought I had to come to this," she said. "I am here because I think Trump is so dangerous. He is a cruel bully. There are so many things that are bad."
Ms James, who worked with people with mental health problems as an art therapist before retiring, added: "We are now in a position where we can destroy the planet. He has got to accept global warming and stop drilling in Antarctica. It is the greed that is killing the planet. It is the power of multinationals, the banks, the hedge funds. Trump has got them in his government. He is doing deals with them."
From the placards comparing Mr Trump to the sound of a fart, to face masks emblazoned with "Trump stinks", the crowd was unanimous in their hostility towards the world leader.
"I am here for human rights, women's rights, racism, migration, anti-fascism, Palestine, civility, kindness, compassion," Kate Oliver, 64, said, almost running out of breath.
Her friend Peter Woole, 64, who she met a stone's throw away while they both doing PhDs at University College London, nodded his head in agreement as she reeled of issue after issue.
"I am here to send a message to the political elite not to cosy up to Trump," he said. "I am not even surprised the president did an interview with The Sun. I think it would be naive for anyone to think he wouldn't".
Melanie Woole, his 63-year-old wife, was equally unimpressed with the president.
"He is the great destroyer. It takes very little time to destroy something which took decades to create and will take decades to build up again."
Ms Oliver added: "It feels like he was trained by his reality TV show. It is not the type of world I want to live in."
Shaista Aziz, one of the organisers of the protest, said she was thrilled at how many people had made the trip down.
"It took weeks to mobilise people. I am humbled and excited to see so much diversity here. And there are lots of first-time protesters," she said. "There is a real carnival atmosphere."
She said there were people from across the UK, and a high proportion of under 20-year-olds, noting there were large numbers of young women. 
"They want to stand up for women's rights and against misogyny and hatred towards women," she said.
After addressing crowds assembled in front of Trafalgar Square's lions, Labour MP David Lammy told The Independent Mr Trump was "not welcome" in the UK.
"I don't think any of us could have believed that a man full of such bile, such hatred and such evil would get his hands on what is at its best the beacon of freedom in the world," he said. "This presidency is worse than any of us could have ever, ever have imagined."